03 Feb

Modern Marketing: Interactive Real Estate Sales Centers

Consumers are more acquainted with modern technology than ever before and are accustomed to experiencing the world through a screen, whether it's a desktop, mobile device or smart TV. That baseline level of technological familiarity can and should be anticipated throughout the marketing mix and extends to the real-world real estate sales center design. Once a prospective purchaser has gone through the sales funnel and is standing in the development's sales gallery, it's vital for the project and the sales team to make an outstanding first impression, and technology can be an excellent tool.
The real estate sales galleries ULA designs for clients serve as immersive residential and lifestyle experiences, and our team would recommend including the following:
Interactive sales tools
Virtual reality tours
Architectural scale models
Digital topo tables
Wall-mounted displays and standing kiosks
Key Elements of an Interactive Sales Center

There are a variety of ways for developers to incorporate the latest and greatest technology into a real estate sales center, simultaneously enhancing the overall design and providing on-site brokers with the resources they need to sell the luxurious residences and promote the sophisticated lifestyle.
Interactive Sales Tools
These sales tools or "sales apps" present distinctive floorplans, impressive virtual tours, photorealistic renderings, soaring views and nearby points of interest in an attractive branded package. They can be accessed via wireless tablets and streamed onto larger displays, and app content can be refined throughout the life cycle of a development based on feedback from the sales team and prospective buyers.

Virtual Reality
Although it may still seem like the stuff of science fiction, virtual reality is a fantastic tool to utilize in ultra-modern real estate sales centers. Potential buyers can simply strap on a sleek virtual reality headset and embark on a "walking" tour of future residences and amenities, getting a sneak preview of the homes and lifestyle that await. Even for the technologically savvy, virtual reality presentations are a breathtaking way to bring a development to life.

Another fantastic and more common way for sales centers to implement VR technology is through high-quality, fly-through virtual animations.
Architectural Scale Models
Detailed scale models not only provide a realistic view of a prospect's future residence, but can even be wired to interact with live sales presentations.
Digital Topo Tables
What those of us in the real estate industry refer to as a "digital topo table" is essentially a large 4K touchscreen laid into a tabletop. These flat digital displays are typically used to showcase and walk through interactive maps of a community, particularly when promoting homesites and models within master-planned developments.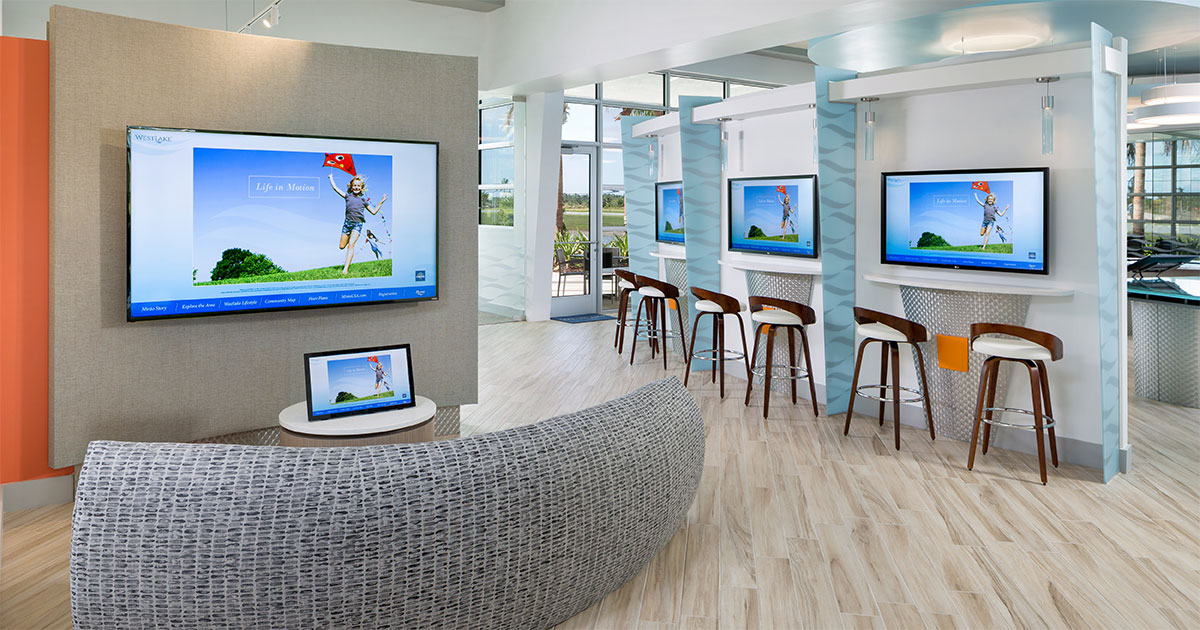 Digital Displays and Kiosks
Interactive displays further streamline the on-site experience, offering visitors the opportunity to preview a product or spend a little time swiping through images, maps and videos on their own before or after a full presentation.
Build Your Interactive Sales Center with United Landmark Associates

ULA is a premier real estate marketing agency, with 35 years of experience ensuring client success and delivering results that transform city skylines and exceed expectations. The experts at United Landmark Associates are always ready to leverage their knowledge of the luxury and real estate industries to support existing and new clientele, and we're equipped with all the tools you need to take a cutting-edge sales gallery from concepting to completion – contact us online or call (813) 870-9519 for more information.